A Most Wonderful Creature, "My Gracie Anne"
How can I say my Gracie Anne is the most wonderful creature I've ever known when since the seventies I have had the joy of four who came before her. Yet on July fourth of last year this beautiful fawn just 15 months old walked in the visitors area at Hoytts and in minutes my husband Bryon and I knew Barrie did it again.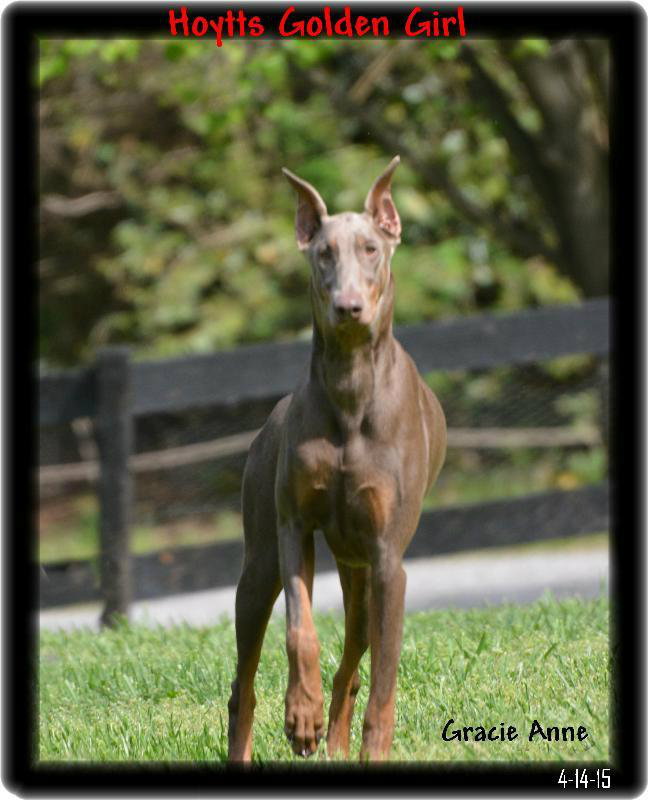 Because of an accident years before I needed a gentle touch dog who would help reduce the stresses and in turn the discomforts of the pain that remains, both home and at the office. Did I mention I am also legally blind?
Our 500 mile trip home went differently then the world might expect. We had bought a canine version of a --- so our new princess would ride in style but as the day turned to night and comfort that comes with success knowing we had once more won the canine lottery I decided to join Gracie. Carefully I talked her into moving over enough so I could join her. Anyone who allows a Dobe to sleep in bed knows they can will themselves to triple their weight while they look at you as if they don't understand what you want.
A few promises of treats and all my might did the trick. As soon as I was comfortable Gracie cuddled up next to me and we slept until Bryon announced our arrival home.
Gracie Anne has been the perfect fit! Gracie has many coats to wear for with Bryon she plays games like "hide and seek". But this girl knew there was more to the game and soon she learned to hide. Choosing different locations on our property that has many trails. She may not have been able to give Bryon a whistle to help him find her but learned a give a soft but low bark...With this show of intelligence she won my husbands heart exceeding all expectations. Many times she would hide first and won most of the games since he had to really work hard to counter her scenting ability. We think she lets him win every so often to keep the game going. Gracie also likes tug of war, fetch, both versions. Ours and hers, hers when we chase the ball and bring it to her. Loves the walks with mom and dad, treats before bedtime, well treats anytime she does her "look how cute I am" trick.
Almost to the day a year after she joined us she became a mother, one of the conditions of adopting Gracie. Her line had to be carried on.
Gracie and I took five weeks of maternity leave. She even exceeded our expectations for today Barrie has eleven wonderful little Hoytts and I'm sure these must be the most beautiful, affectionate, intelligent and healthy babies ever to carry the Hoytt name. Know my Gracie from the first hours of birthing to weaning she never let her babies go hungry nor feel alone. I helped a little.
As I write this Gracie is back being our most wonderful companion and my office assistant. And once more and I thank Barrie for creating another great companion.