Pictures at House of Hoytt
of
Training with Cats & HOH Kittens
No Hoytt Dobes were hurt during these photo sessions
If you have not yet seen our development video on the House of Hoytt, you have no idea what this heading is all about I will keep you wondering for a few more moments.
You see, we use the ultimate distractions when developing our Dobes, CATS! We call them our terrorists because they know how to aggravate both the trainers and the pups. In the end if a young Dobe can perform its training out of doors with the CATS present, and if they can live in harmony with the cats in our home and even eat out of the same food bowl, we not only have exceptional control, we have shown the young Dobe student that there are other creatures they must live in harmony with. Almost every video shows the cats right there next to the Dobe while it is trying to "STAY" or crossing its path at the moment the Dobe has been called to "COME." Just one more way of setting a better education foundation.
An interesting point: when we have to hire new trainers, the ones that come to us with experience usually begin their trial period only to give up after a few days because they can't handle the distractions of the FELINE TERRORISTS.
The new cat on the block - Atlas
Seriously - These are Important... You let him do this to me all MY Life! I am trying to look "Distinguished" here!!!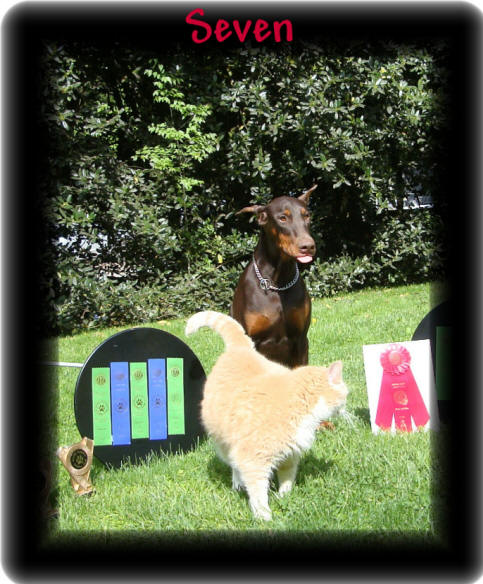 Cat Terrorist Video "Training with Cats"
(Link Below)